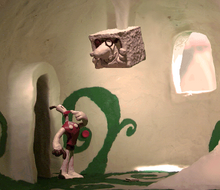 The man in the T.V. (TV guy) is briefly seen hanging from the ceiling in the Aqua House. He has a large nose and glasses and says, "Hey Klaymen, say knock knock." He only says this once in the game and Klaymen cannot interact with him, but he tends to watch Klaymen as he walks across the screen.
Ad blocker interference detected!
Wikia is a free-to-use site that makes money from advertising. We have a modified experience for viewers using ad blockers

Wikia is not accessible if you've made further modifications. Remove the custom ad blocker rule(s) and the page will load as expected.