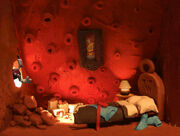 Willie has a small red roofed house which he has always lived in. When Ottoborg's World fell apart, Willie was in his house, so he stuck with it. When Hoborg created the Neverhood, he included the house as a part of it.
The only part seen inside is a bed, some extra klay, clothing, a lamp, and a picture of Ottoborg that says Dad.
Ad blocker interference detected!
Wikia is a free-to-use site that makes money from advertising. We have a modified experience for viewers using ad blockers

Wikia is not accessible if you've made further modifications. Remove the custom ad blocker rule(s) and the page will load as expected.