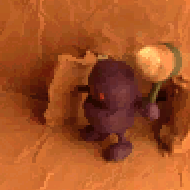 The Hammerboy is an annoying little purple creature living in the house above the underground cavern. He was probably made by Klogg. He has a big hammer and uses it on Klaymen when he stumbles into a hole in his house, finishing the job and knocking him in. It is unknown if he does it in order to use Klaymen in a sacrifice ritual, to guard Klogg or just because he is a disagreeable bore.
Ad blocker interference detected!
Wikia is a free-to-use site that makes money from advertising. We have a modified experience for viewers using ad blockers

Wikia is not accessible if you've made further modifications. Remove the custom ad blocker rule(s) and the page will load as expected.