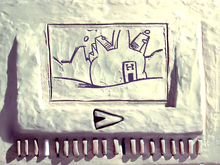 Disk players are television-like or computer-like machines built into walls of several rooms. They are used to play the story stored on disks. When clicked, Klaymen inserts the disks he had found into the slot, and the story told by Willie about Hoborg and Klogg, consisting of 20 disks, is played.
Locations
Edit
Regardless of in which player Klaymen puts the disks, they become available to play at all players.
No matter which disks Klaymen collects first, they will always be put into player in the same order. For example, disk #12 will always be found last.
Ad blocker interference detected!
Wikia is a free-to-use site that makes money from advertising. We have a modified experience for viewers using ad blockers

Wikia is not accessible if you've made further modifications. Remove the custom ad blocker rule(s) and the page will load as expected.