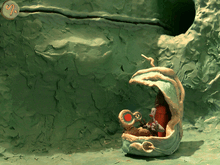 Bil's place is a part of the Neverhood. It becomes reachable with the teleport machine after Klaymen discovers Hammerboy's cavern. It is green with traces of red, and drops of water can be heard dripping.
Its most prominent feature is the Cathead Mountain, which separates the teleport machine from Big Robot Bil's hole. A groove runs along the wall next to the teleporter, which proves to be the red car's connection to the Tunnel room. On the other side of the tunnel that runs through the Cathead Mountain, a large crowbar is stuck into the ground (used by Bil later in the game). Willie Trombone's calls, "Klaymen, up here!", can be heard from there, and if looking up, Klaymen can see his cousin's refuge. Though it is not sure if Willie knows what Klaymen wants from him... To the right, a path leads to a huge hole where Bil dwells.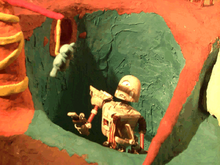 Bil's hole has a round window and an arm on which his Teddy Bear is hung. The wall of the hole contains a box which controls the arm. Klaymen must use it to rotate the arm so that Bil can look at his Teddy Bear through the window. Then Klaymen shoots Bil at his head with the cannon so that he staggers and crashes through the wall with his chest. Then Klaymen must come back to Bil's place, climb into Bil, switch him back to "Good", pick up Willie and head toward the castle.
After Bil and Willie die and Klaymen breaks into the castle, it is no longer possible to visit Bil's place, for Bil had stepped onto the teleport machine there and destroyed it.
Ad blocker interference detected!
Wikia is a free-to-use site that makes money from advertising. We have a modified experience for viewers using ad blockers

Wikia is not accessible if you've made further modifications. Remove the custom ad blocker rule(s) and the page will load as expected.